Mieko Mahi Photography & Video Services is capable of covering, in image form, every vital aspect of a company's operations and every detail of its infrastructure.

With 25 years of experience in the energy business, she is also versatile enough to create dynamic images ranging from executive portraits to the unloading of ships from barge or helicopter.
Highly skilled at working from helicopters, offshore vessels, ships, work boats, including in-studio executive portraits and product photography -- which have appeared on the covers and inside pages of energy trade publications and annual reports. In regards to safety certifications, Mieko Mahi has TWIC, Safe Land, Safe Gulf, METS Helicopter Underwater Egress Training, Fall Protection, Water Survival/Swing Rope/Personal Transporation Basket certification and proof of insurance.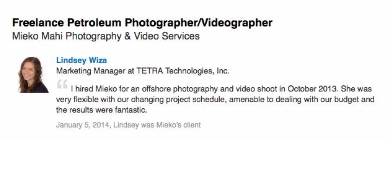 This is a private corporate presentation for in-house use. It was constructed without a voice-over to showcase to employees and asset management teams. Mieko Mahi was the still photographer, videographer, associate producer, and editor.